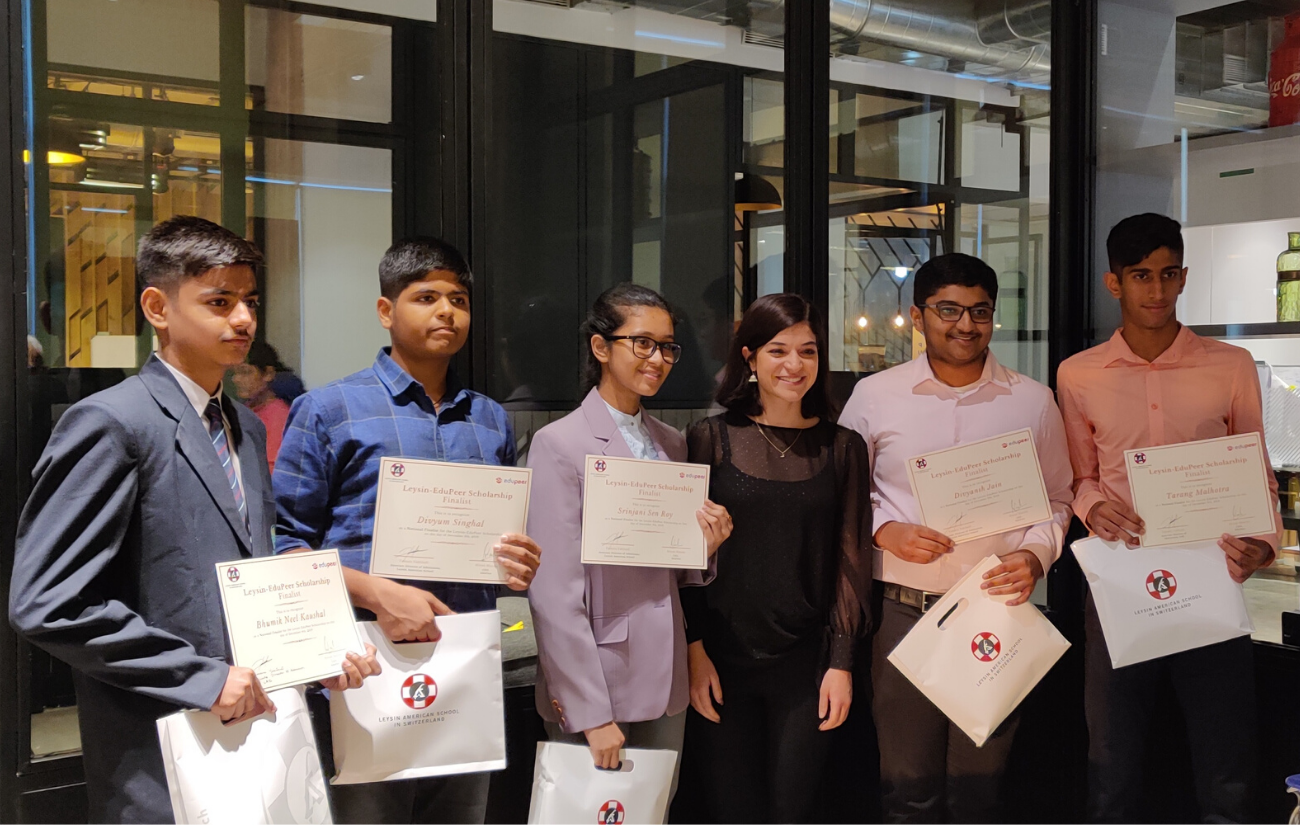 19 Dec

Indian Student Wins $200K Scholarship

Switzerland has a reputation for chocolates, cheese, luxury watches and of course, Roger Federer. What most of us don't know is that it has the world's best boarding schools as well. Are these schools out of reach for not-so-rich-and-famous students? Not always.

As part of its mission to democratize higher education, EduPeer partnered with Leysin American School (LAS) in Switzerland, one of world's top 10 boarding schools, and ran a contest. The aim was to identify one lucky tenth-grader who will be awarded free education for the next 2 years at this premier school.

Divyansh Jain, a student of Amity International School, Delhi is the proud winner of this year's Leysin-EduPeer Scholarship. He will get to study the IB program at LAS, virtually free. The cost of tuition and other expenses at LAS for the eleventh and twelfth grades is about $200,000 (USD), which his family does not have to worry about. According to Hitesh Sharma, CEO of EduPeer, students from more than 95 schools participated in the first round, an aptitude test. These students were evaluated on their academic and extracurricular performance apart from the scores on the aptitude test. The top 20 students were invited to create a short video on a subject of their choice from the fields of Science, Technology, Engineering, Arts or Mathematics. We take great pride in sharing their work on EduPeer Youtube Channel.

From there, the top 5 students were invited to come to Mumbai for a final interview. Goscia Ott and Tamara Yahfoufi of LAS along with  well-known Mumbai writer and journalist Dilip D'Souza and Hitesh Sharma of EduPeer conducted the interview. Sharma remarked that all the five students were bright and talented, making it a very close contest. The team looked at the holistic nature of the applications to choose the final winner.
Divyansh was ecstatic at winning the contest.  He shared his excitement and nervousness at the same time and said, "It has been an enriching experience for me to be a part of this Scholarship program which included learning as well as interacting with peers and faculty members. Selection process was quite competitive and I wasn't sure I would win but I am looking forward to exciting high school years at LAS."  Tamara, who is on her second visit to India, was thrilled about the quality of students who participated in the contest. She said: "We are so happy to have Divyansh join us for the 2020-21 academic year! We enjoyed meeting with all the participants. EduPeer has been an excellent partner in helping us plan and implement this contest! We look forward to working with them again".
Soon Divyansh will be at the Leysin campus enjoying an unbelievable experience in his formative years. We hope he not only excels in the IB program but learns skiing as well!
The final five finalists are worthy of mention for making this contest as competitive as it could be. They may not have won the scholarship, but they did demonstrate their courage and knowledge well. Their parents felt that it was a great opportunity to get exposure to a world class school, an experience that makes their students wiser and more confident. As a community, we should be proud of all of the participants. The five finalists were:
Divyansh Jain of Amity International School, New Delhi (Winner)
Srinjani Sen Roy of DPS Ruby Park, Kolkata
Tarang Malhotra of Heritage Xperiential Learning School, Gurugram
Divyum Singhal of Amanora School, Pune
Bhumik Neel Kaushal of Bal Bharti Public School, Delhi
We wish all of the contestants the best in their future endeavors. We hope to see more of such contests in India.
You can learn about such contests as well as about college admission by registering at EduPeer.com. Feel free to reach out to us at contact@edupeer.com for any questions related to college admission for any degree.